The best banknote detector
All banknote detector tools have now become essential for those who deal with the most disparate customers daily.
The banknote checking machines that SDSP sells are all certified and guarantee control over all Euro banknotes in circulation, with continuous updates also on the new banknotes in circulation.
Whuy you need a banknote detector?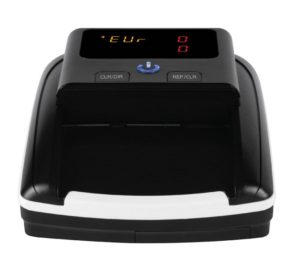 Simple: to protect your incomes from fake bills.
Increasingly it happens that your customers pay you with fake banknotes of which they are not even aware (because those who put them into circulation use alternative circuits) and more and more this happens with small banknotes.
By now, in fact, scams no longer occur on large denomination banknotes, but on small denomination ones, precisely because of their greater circulation.
Certifications for banknote verification of our machinery
The banknote verification machines in our portal are RohS certified and have a minimum assistance of 1 year, expandable in case of need.
Our SDSP service center is available daily to provide the necessary support, even in the event of damage to the banknote detector.
The prices of the banknote checker are absolutely in line with the market, with the added reliability of a company that has been operating in this market for over 20 years.
NEW MINI FAST CONTROL – PORTABLE COUNTERFEIT DETECTOR

MINI FAST CONTROL NEW is one of the smallest automatic and portable counterfeit detector all over the world. It is 100% approved by ECB (European Central Bank). Its compact size makes it perfect for mobile use. So you can use it as a desktop detector or carry it out in a waistband. This counterfeit detector can work either under a 100V-240V power adapter or with a AC 101 Rechargeable Battery. It automatically detects Euro and (or) a second currency automatically. In addition, AC 105 Car-mounted Charger is available.

Download DEPLIANT MINI FAST CONTROL NEW

120,00

€

+iva