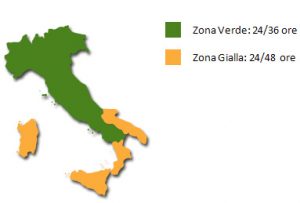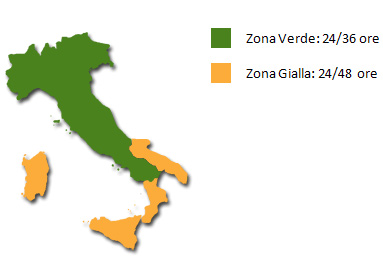 DELIVERY
The ordered products will be sent by express carrier to ensure delivery of the product quickly, on the Italian territory normally within 24 hours (islands, Calabria and Puglia excluded) unless the requested model is unavailable.
Green area: 24/36 hours
Yellow Zone: 24/48 hours
PAYMENT SECURITY
Orders and online payments are made through the SUMUP platform.
For no reason SDSP will have access to information related to your credit card or your financial data, SUMUP will store this information in an extremely secure server, both physically and electronically by firewall devices, and not directly connected to the Internet. Therefore, private information is only available for authorized computers.
SUMUP automatically encrypts confidential information that is transferred from your computer using the Secure Sockets Layer (SSL) protocol with a 128-bit encryption key length (the maximum length available on the market).
For more information see the "Security Space" made available by SUMUP: Security Space
PRODUCT RETURNS
– Dead on Arrival (DOA). If the purchased device does not work or fails, within 3 days of arrival it can be replaced by sending it back to us.
– Repair within the warranty period (12-24 months). The transport costs are charged to the customer both in and out. In this case you will have to send the product in the most practical way.
– Repair over the warranty period (12-24 months). The cost of the repair and shipping costs are at your charge.
HOW TO RETURN THE PRODUCT TO THE ASSISTANCE SERVICE
Make sure to send the device to Cristiano Folcolini's SDSP together with a copy of the purchase document indicating it on the parcel or on the return document.
DAMAGE FROM TRANSPORT
The goods travel at the risk and peril of the recipient customer even if sold carriage free, ceasing the responsibility of the seller for the goods at the exit of the warehouse. At the time of delivery, the Customer is obliged to notify the carrier of any damage found, missing packages and / or tampering with the packages and to describe them on the transport document accompanying the goods. The verbal complaints alone will have no value.
PAID MONEY IS NOT RETURNED FOR ANY REASON
The goods purchased if they do not like can only be changed with other goods of the same price or higher price. In this case, just give the difference in cost.