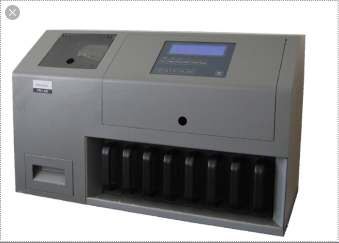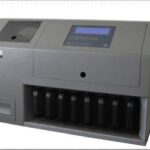 COIN SORTER PRC 330 used and guaranteed
1.200,00€ +iva
Description
Specifiche Tecniche
Description
PRC 330 is a professional COIN SORTER suitable for all those activities that need to count and divide huge quantities of coins quickly based on the binary gravity system and the Coinsure Adaptive® sensor.
It is a strong and sturdy machine equipped with very resistant mechanics and state-of-theart electronics. It has a large backlit LCD display on which all the general and single piece counting reports appear.
It counts and divides all Euro coins by selecting them in the 8 special containers with an accurate check of the false ones. Instead the tokens, fake coins or coins of different currencies, are diverted to the 9th container (discard) and are counted separately, separating them from the Euro coins counting report.
It is also possible to view the total of each coin on the display. Equipped with an internal memory to keep the our coin preselection operations even with the machine off. Optionally it can be sold with an external THERMAL PRINTER for printing the counts made on thermal paper.
Technical features:
Dimensions: 70 (L) x 30 (W) x 42 (H)
Method of advancement: Clutch
Reject drawer: YES • Operating temperature: 0 ° – 40 °
Alloy sensor: with automatic ejection of unrecognized coins in the 9th drawer
Start: YES Weight: 35 Kg. Technology: Electronics
Voltage: AC110V / 60Hz or 220V / 50Hz • Loading: Mixed coins in the stacker with automatic division in the drawers
Interface: RS232C for communication of updates via PC • Stop: Automatic and Manual
Storage capacity: Up to 700 pcs. in the drawers
Speed: 800 coins per minute with a loading capacity in the stacker of 3000 pcs. mixed coins (diameter 25 mm, thickness 2.0 mm)
Coin dimensions: Diameter from 14 to 31 mm; thickness up to 4 mm • Currency recognized with counterfeit verification: Euro through Coinsure Adaptive® alloy recognition sensor
CE MARK
1 YEAR GARANTEE
ROHS COMPLIANT
ASSISTANCE GUARANTEED BY SDSP