The new € 100 and new € 200 banknotes have arrived!
andrea
All you need to know about the new 100 and 200 € banknotes from the Europa series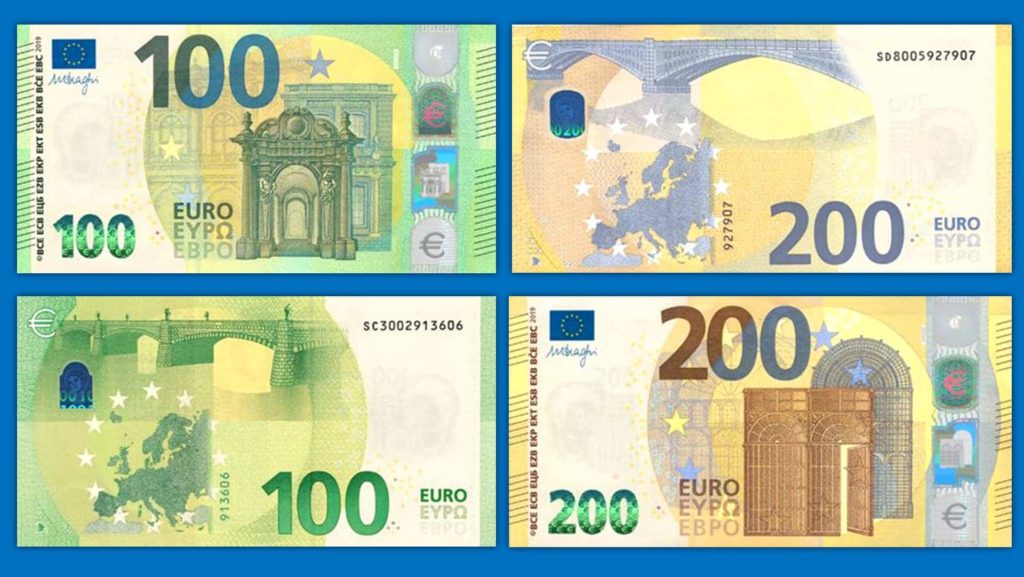 From May 28, 2019, the new 100 and 200 euro notes are now in circulation. With the abolition of the € 500 circulation and the previous entry into circulation of the new 5, 10, 20 and € 50 banknotes, the brand new Europa series is complete.
The Europa series of banknotes is characterized by the precedent for an eye on security and anti-counterfeiting, although to avoid unpleasant surprises we advise you to money detector machine.
The recognizable features of the new 100 and 200 euro banknotes with the naked eye
The banknotes of the above mentioned cuts belonging to the new Europa series are characterized by a silver lateral strip containing the following elements:
a satellite hologram that shows small € symbols that move around the number and become clearer under direct light;
the portrait of Europe;
the architectural motif;
a great symbol of the €.
In addition, the new € 100 and € 200 banknotes also have a number indicating the cut of the enhanced emerald banknote which shows the symbol of the European currency inside.
The dimensions
Both new banknotes are smaller than the previous ones. In particular, the new 100 and 200 € banknotes measure as high as a € 50 banknote because they have been designed with an eye on the work of the banknote detector so that they can more easily manage money. Their length, however, has remained unchanged with the principle that the longer the note, the higher its value.
Security features recognizable only by banknote verification devices
The new euro banknotes of the Europa series also contain mechanically readable security features, in addition to those that can be seen with the naked eye. On the new € 100 and € 200 banknotes these features have been improved and new ones have been added so that the banknotes can be processed and authenticated quickly by note counter that work as a money detector.
Stay tuned, follow us on Facebook!